People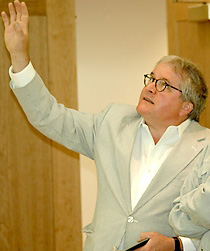 Barton Phelps, FAIA
Principal Architect
The built work of Barton Phelps ranges broadly from civic and university buildings and performing arts facilities to industrial plants, workplaces, houses, and landscape design. It explores the potential of contemporary forms and spaces to interpret their surrounding landscapes and argues for physical and social contexts as primary generators of built form. Recognized also for their achievements in urban design, master planning, and alternative re-use of historic structures, his projects have been published internationally and honored with numerous national and regional design awards. In 1993 he was elected to the College of Fellows of the American Institute of Architects for his contribution to the advancement of architectural design.
Mr. Phelps received a B.A. with honors in Art from Williams College and a Master of Architecture degree from Yale University where he was teaching assistant to architectural historian Vincent Scully. With Sir Colin St. John Wilson & Partners in London, he assisted with design of the British Library and, moving to Los Angeles, joined Frank O. Gehry & Associates on a series of public projects that included renovation of the Hollywood Bowl for the Los Angeles Philharmonic Orchestra. He taught at the Rice University School of Architecture and was appointed Assistant Dean of the Graduate School of Architecture and Urban Planning at UCLA and Director of Architecture at its Urban Innovations Group where he collaborated with Charles W. Moore.
As Adjunct Professor at the UCLA School of the Arts and Architecture for twenty-two years he has linked practice with teaching architectural design and cultural geography of the American landscape. His research on the effects of design on collective built environments, supported by the Graham Foundation for Advanced Studies in the Fine Arts and the National Endowment for the Arts, has resulted in such works as the 1991exhibition, Corridor: The High-speed Roadway as Generator of New Urban Form which explored the Los Angeles freeway system and its potential as an armature for urban design.
As National Chairman of the AIA Committee on Design, his 1996 symposium series Changing American Landscapes, surveyed changing patterns of use and meaning in everyday urban and rural built landscapes along the Mississippi River Valley. It is the subject of his 1998 journal, Views from the River published by the American Architectural Foundation. Known also for his efforts in developing urban historic preservation policy, he led a drive to save the 1926 Los Angeles Central Library from demolition and subsequently helped structure its expansion as an anchor for downtown renewal.
Active as a lecturer, editor, and design juror, Barton Phelps has served as a Faculty Member for the Mayors' Institute on City Design of the U. S. Conference of Mayors and for the Design Excellence Program of the U. S. General Services Administration, as a jury member for national 2003 AIA Honor Awards in Architecture and the U. S. Presidential Design Awards 2000, and as a member of the editorial boards of Architectural Record and Architecture California. Currently he serves on the Architectural Advisory Board for the Design Review Committee at the University of California Santa Barbara, and the design advisory panel of the City of Los Angeles Cultural Affairs Commission.
Selected Design Juries of Barton Phelps:
WESTERN ERUOPEAN ARCHITECTURE FOUNDATION: THE GABRIEL PRIZE, Santa Monica, 2003
AMERICAN INSTITUTE OF ARCHITECTS: 2003 HONOR AWARDS IN ARCHITECTURE, Washington, D. C., 2002
U. S. GENERAL SERVICES ADMINISTRATION: PRESIDENTIAL DESIGN AWARDS 2000, Washington, D. C., 1999
U. S. GENERAL SERVICES ADMINISTRATION: U. S. COURTHOUSE COMPETITION, Eugene, Oregon, 1998
AIA/CHICAGO DESIGN AWARDS, Chicago, Illinois, 1998
AIA/NATIONAL CONCRETE MASONRY INSTITUTE, National Design Awards, Washington, D. C., 1998
AIA / NEW YORK DESIGN AWARDS, New York City, 1997
AIA / OKLAHOMA DESIGN AWARDS, Tulsa, Oklahoma, 1997
AIA / HOUSTON DESIGN AWARDS, Houston, Texas, 1997
U. S. BUREAU OF ENGRAVING AND PRINTING, Southwest Gateway Competition, Washington, D. C., 1994-5
WESTERN STATES AIA DESIGN AWARDS, Santa Fe, New Mexico, 1995
AIA / NEVADA DESIGN AWARDS, Las Vegas, Nevada, 1995
SAN ANTONIO MAIN LIBRARY DESIGN COMPETITION, San Antonio, Texas, 1991, Chair
AIA / SUNSET WESTERN HOME AWARDS, Menlo Park, California, 1989
AIA / ACSA TOPAZ MEDALLION For Excellence in Architectural Education, Washington, D. C., 1989, 1993
AIA / BRICK INSTITUTE OF AMERICA, National Design Awards, Washington, D. C., 1989
WESTERN STATES AIA DESIGN AWARDS, Denver, Colorado, 1988
Architect: California C-9044
Associates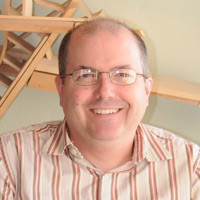 David Haggerty, AIA, LEED AP
Senior Associate
As project architect for a series of university and public institutional buildings, Mr. Haggerty has fifteen years experience at BPA in initiating projects with multiple user groups, developing technically demanding designs, and shepherding them successfully through rigorous constructability, value engineering, compliance review, and bidding procedures. Before joining BPA, Mr. Haggerty designed public institutional projects in the New York offices of I. M. Pei and Partners and Kliment and Halsband. A talented designer with broad experience in public facilities, he is a veteran in project organization, space planning, scheduling, client interaction, group consensus building, and construction administration.
Bachelor of Arts in Architecture, Rice University, 1987
Bachelor of Architecture, Rice University, 1989
Architect: California C-27330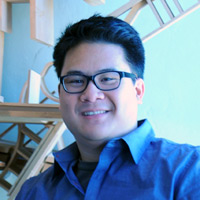 Gregory Y. Cheng, M.Arch.
Project Manager
Mr. Cheng's design experience includes campus master planning, university facilities and alternative re-use of major structures as well as with procedures of the Division of the State Architect. His design and production experience includes laboratories, sports facilities, multi-family housing and student housing. He's worked on both coasts and in the Deep South as well as in Europe and Asia and comes to BPA from the Los Angeles office Behnisch Architekten, the distinguished German firm with headquarters in Stuttgart. A talented designer in his own right, his academic projects have received national and international attention in architectural exhibitions and publications.
Highly computer proficient, his skills in graphic design and image manipulation. are supported by a range of applications that includes Adobe CS: Photoshop, Illustrator, InDesign / AutoCAD / Revit / Rhinoceros 3D / Sketchup.
Bachelor of Arts in Architecture (minor in Organizational Behavior), Miami University (Ohio), 2003
Master of Architecture, University of Michigan, 2007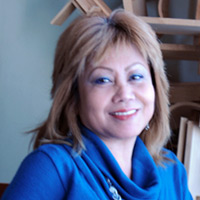 Lou Sabas
Office Manager
Ms. Sabas has directed office administration at BPA for thirteen years. Prior to joining the firm she worked in talent management, marketing and travel. Also a free-lance writer, she formerly served as Entertainment Editor / Marketing Director of Diaryo Pilipino, Alhambra, California
Bachelor of Arts in English
San Sebastian College, Philippines, 1976
Bachelor of Science in Nursing
San Juan de Dios, College of Nursing, Philippines