William Andrews Clark Memorial Library, UCLA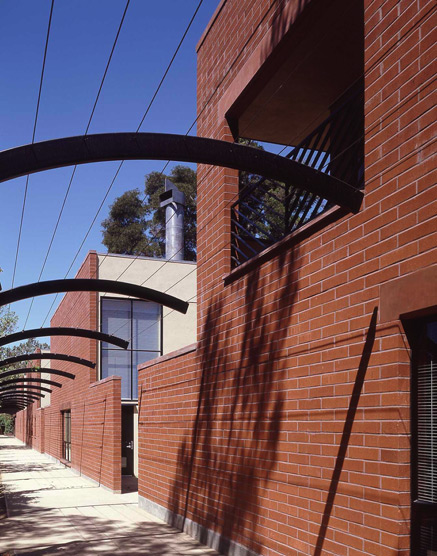 "Instead of indulging in architectural pyrotechnics, the architects had a clear vision that simplicity was what was called for. The North Range is simple in form, yet so carefully thought out that nothing seems out of place or extraneous. But probably the biggest contribution of this scheme is its respect for the library and its setting. By creating the first elements of the wall, the architects have set a pattern of circumspection that should guide any future construction. They have also executed the actual buildings in a no-nonsense, pristine manner, showing admirable restraint in expression and detailing. There can be no question that this is the correct solution to meet this challenge, in this place."


Murphy, Jim, Scholarly Wall, Progressive Architecture. February, 1991
UCLA Center for 17th and 18th Century Studies
2520 Cimarron Street
Los Angeles, California
1990
Site: an elegant Baroque-styled pavilion hidden on a walled block in a once grand neighborhood near downtown. Built in 1926 in the backyard of mining heir William Clark, Jr. it was willed to UCLA in 1934 with a stipulation that no building rise within 100 feet. By then Clark had demolished ten neighboring houses, relocated the brick servants' quarters, and extended an old brick wall around the block. For sixty years the library drifted in an unfinished landscape gradually emptied of Clark's house, gardens, and observatory.
Founding a Community: As the UCLA Center for 17th and 18th Century Studies, the library and its rare books are now a focus of scholarly symposia and research. Our master plan proposes a below grade facility at its center. Limited funding from Getty and Ahmanson Trusts allowed construction of above ground support facilities that began transformation of a private library into a community of scholars.
Building as Landscape: Conceived as an extendable wall, thickened to 22 feet to house conference and guest room/dining facilities and editorial offices in a string of pavilions that leaves the center of the site open. The first four units are separated by courtyards to form a 270 foot-long range (to use Jefferson's term at UVA) on the north side of the block. In form and color the new building relates more to red brick perimeter fence than it does to the delicately detailed library from which it respectfully withdraws, but its two-story height encloses the garden expanse, anchoring the library from across the lawn.
Low Cost Durability: Disciplined by budget, the North Range relies on commercial cellular brick, pre-cast concrete lintels and sills, and steel windows for durability and robust construction comparable to that of the old library. End walls are light frame infill with stucco panels and storefront glazing tailored to differing interior functions. Flowering vines on a cantilevered steel pergola shade windows and mark courtyard entrances. Decomposed granite paving and live oaks give California flavor to the shady academic street.
Inside a Wall: Interiors are Spartan: exposed brick, stained concrete and carpet with sturdy wood furniture. The conference room / commons is a little baronial hall with oversized fireplace and coffered ceiling made from strand board sheets. Apartments for visiting scholars are L-shaped bed-sitters. Like the dining room below, they look out to the old library under a venerable bay fig, planted, we suppose, by one of Mr. Clark's former neighbors.
Design Awards
AIA / Los Angeles, 1990
AIA / California Council, 1991
AIA National Brick in Architecture,1995
Publications
Murphy, Jim: Scholarly Wall, Progressive
Architecture, February, 1991
Photography: Tom Bonner