Santa Monica Municipal Pier Competition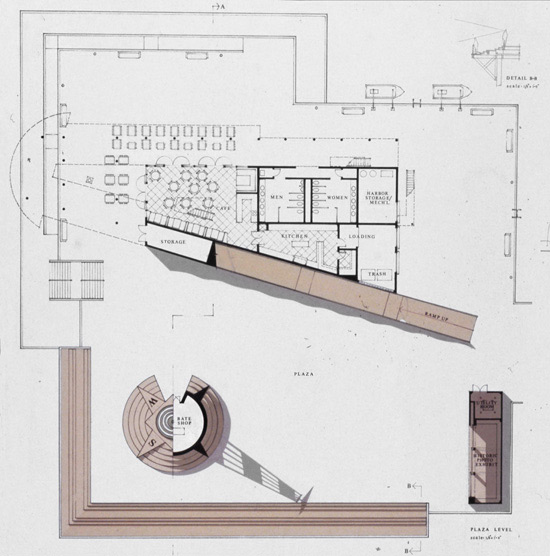 Santa Monica Municipal Pier Competition
Experience
Our scheme treats the "hammerhead" at the end of the pier as the culmination of a leisurely but unusual walk, a place apart from the bustling "Pleasure Pier" one passes through in getting there - well beyond the roar of surf and almost free of the land. Strollers expect a reward at the end and the proposed Café will help define the place as will the activity of fishermen. But it is the sheer exhilaration of moving out over the water - a little like a boat ride but higher and more like soaring and on a collision course with the horizon - that we find most precious and most worth enhancing.
Destination
The place we propose at the end of the pier is simple, designed to support a range of activities including a kind of intuitive dead reckoning that briefly reconnects one with sea, sun, and wind before turning to return to the land. A plaza, open to the south, sheltered from the wind by a two-storey structure housing most of the program, and kept from view until arrival by a photo exhibit shed on the east side.
Upon entering, the plaza expands to the scale of the bay and the view is mostly ocean. A walkway is depressed below the southwestern corner of the plaza and no railing interferes with the sightline. The Bait Shop forms the base of an open framed weathervane tower and one can sit on the steps that's cover it and get one's bearings from the compass points inlaid on its flat roof. An accessible ramp to the upper café; and Harbor Office. Imagery is abstract – nautical and marine.