Royce Hall Seismic Renovation, UCLA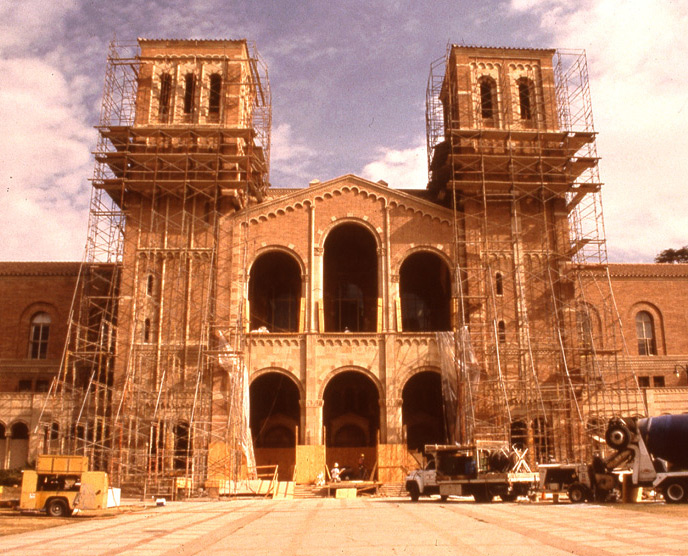 "Royce Hall was not preserved in the conventional sense. It has, rather, been saved and transformed. Phelps says his goal all along was to make Royce Hall what it would have been if David Allison, its original designer, had known what is known today about how to help buildings survive earthquakes, and if he'd had a more generous budget for interior embellishments. That's why, even though Phelps immersed himself in the study of the Lombard Romanesque while working on the design, he bristles if you call it a historic preservation project. "It's not preservation, its architecture," he says. Oakley [the campus architect] agrees: "On campus, everything is always changing. But the good buildings have many lives."


Hine, Thomas, Project Diary, Architectural Record. October 1998
University of California, Los Angeles
1998
Royce Hall was completed in 1929, the largest of four original structures that form the historic core of the four hundred-acre UCLA campus. Designed to function as the main classroom and faculty office facility of the young university, the building presents a lively brick and tile essay in the Lombard Romanesque style that, in its reference to famous university cities of northern Italy, symbolized its academic and cultural aspirations in a Mediterranean campus climate. Today, the twin-towered front remains the best known UCLA landmark. The 1800-seat auditorium was designed as a lecture hall and drama theater and not for musical performance. But, by the late 1980's it had emerged from successive remodelings as a regionally important concert hall and the premier musical performance venue of the university.
Damage as Stimulus for Improvement
Royce Hall suffered severe structural damage in the 1994 Northridge earthquake. The towers verged on collapse and needed to be strengthened and restored on an emergency basis. The project for the rest of the 200,000 s.f. building was to accommodate a new structural system of six-story, concrete shear panels around the "big box" of the auditorium, connected by concrete beams to the building's historic exterior brickwork. In all it would nearly double the mass of the building.
Successfully arguing that temporary closure of the building be seen as an unusual opportunity for major functional improvements rather than simply the "quick fix" that many expected, BPA was commissioned to direct a program of structural strengthening, compliance and systems upgrades, and functional reorganization of spaces for ten university departments affected by the work – a project so comprehensive in scope that it essentially inserted a new building within the old.
Historic Overview
Royce Hall's eligibility for National Register listing prompted FEMA earthquake resistance requirements beyond normal life/ safety levels and triggered close design scrutiny by federal and state preservation officers. The new "soft" structure responds in unison with original masonry infill panels to provide sufficient lateral resistance to protect the building's historic fabric from damage.
Rethinking a Monument
Our renovation approach responds to new requirements for life/safety, accessibility, hazardous material removal, and to the significant impacts of new structure on the appearance and acoustic response of the auditorium. It improves performance capability and stagecraft, restores historically significant spaces, and upgrades corridors, classrooms, offices, and building systems. BPA also programmed and designed new spaces for the Humanities – specialized study centers, reading rooms, and conference / audio-visual facilities – as well as new UCLA Performing Arts offices and a multi-purpose lobby area.
Design Awards
AIA/Los Angeles, 2000
California Preservation Foundation, 1999
U. S. Institute for Theater Technology, 1999
Los Angeles Business Council, 1999
Publications
International Architecture Yearbook, 2000
Architectural Record, November, 1998
Los Angeles Times, March 19, 1998
Architecture, December, 1995
Photography: Tom Bonner