Old Globe Theatre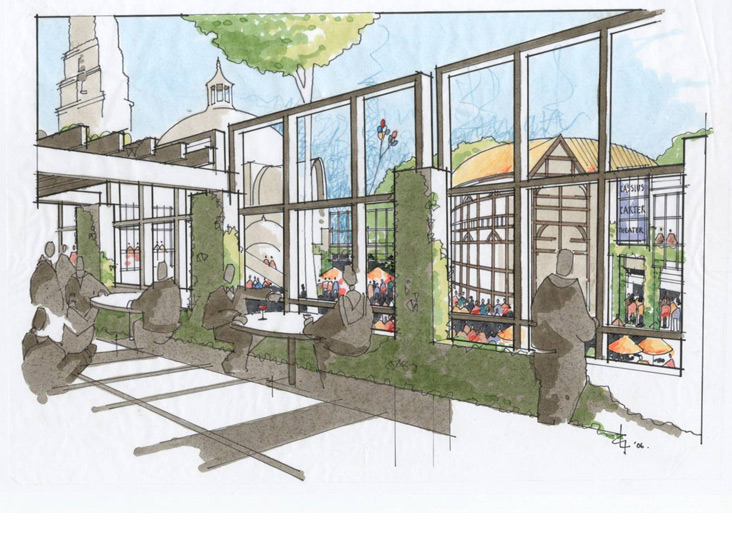 Old Globe Theater Project
Balboa Park
San Diego, California
2006
Constructed in 1915 to celebrate the opening of the Panama Canal, the buildings of the Panama Pacific Exposition once formed one of the most artfully composed romantic landscapes in America. Designed in a scholarly rendition of the Spanish Colonial Revival by New York architect, Bertram Goodhue, their triumph of spatial ordering, sequence, and floral integration was to transform California in the first half of the 20th Century.
The seamless serenity lasted almost until 1935, when as part of the California Pacific International Exposition, the unlikely and awkward insertion of an unconvincing version of the Globe Theater of Elizabethan London immediately behind the very Spanish gateway to the earlier event began to unravel the whole thing.
The "Old Globe" as it was immediately known was subsequently remodeled as a modern thrust stage theater. Eventually was joined by two new theaters, one in-the-round ( "The Carter" ) and the other open-air the three, as we found them, drifted in an awkward and difficult-to-use sea of spaces left over from various building campaigns and through which they were all entered.
In 2006, BPA was invited to participate in a limited competition aimed at enlarging and improving The Carter as well as resolving problems in the Old Globe and its surrounding "plaza". Site analysis indicated that the project's scope was sufficient to significantly enhance the user experience in attending any of the three theaters.
Our scheme strengthens the functioning and identity of The Carter, improves the Old Globe's lighting and historic imagery, reorders and enhances the outdoor audience experience, and coherently links the theater ensemble to the larger context of the park.
Using an abstracted metal-frame version of the oversized windows of the glassy "Prodigy Houses" of Elizabethan England as high-tech trellises, it creates a series of two-story floral arcades that accommodate arrival and intermission activity. Designed in collaboration with Spurlock-Poirier Landscape Architects, the planted structures are seen as an appropriately green response to places of waiting and assembly in this large urban park.
By placing the overall user experience on a par with the architectural expression of the Carter, we managed to alienate the donor. We lost the competition to a scheme that concentrated on making the new Carter pre-eminent. It reminded us of the touristic Cotswold's town of Chipping Camden but without its confectionery charm.