LAPL, Woodland Hills Branch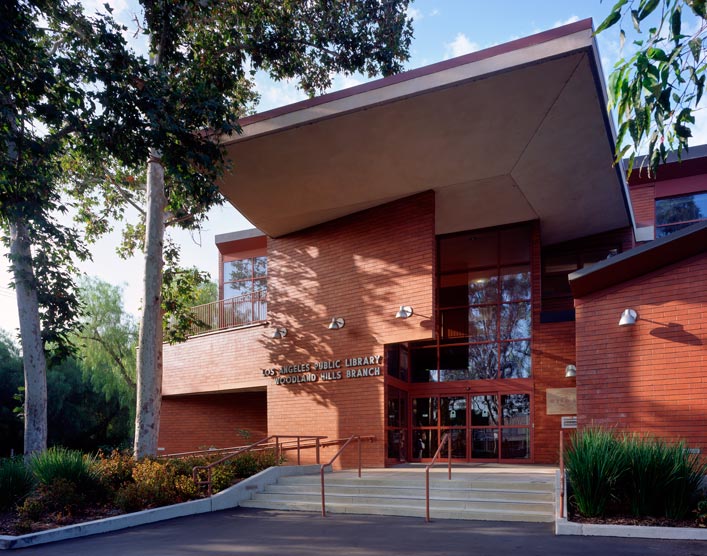 22200 Ventura Boulevard
Woodland Hills, California
2003
The site is an oasis of mature trees fronting a noisy roadway. It merges at the rear with a quiet residential neighborhood. The new library replaces a 1960's structure built with brick walls and a concrete shell roof. The severe impacts of requisite seismic strengthening and mechanical system upgrades ruled out saving the building in recognizable form. The new building is two storeys tall and twice the area of the earlier library. Neighborhood meetings mandated maximizing parking in front and preserving existing trees as possible.
Program / Building form: The ground floor plan is an efficiently compact block but the upper floor meeting room, terrace, and librarians' workroom are articulated as separate volumes. The north elevation rises to maximum allowable height to show a big front to Ventura Boulevard. At the rear, the skylighted pitched roof above the children's and youth reading rooms merges with the scale of the houses beyond.
Reading Room: The main reading room slices away from the entrance and rises to a glazed corner that looks out under the trees. The continuous glass enclosure and lightweight roof are made possible by a single roof truss. Construction is steel frame with cellular brick masonry walls, pre-cast concrete elements, and a heavy timber roof.
Design Award
Design Excellence,
City of Los Angeles
Cultural Affairs Commission, 1997
Publication
Architectural Record, May, 2006
Photography: Benny Chan, Fotoworks