LAPL, Los Feliz Branch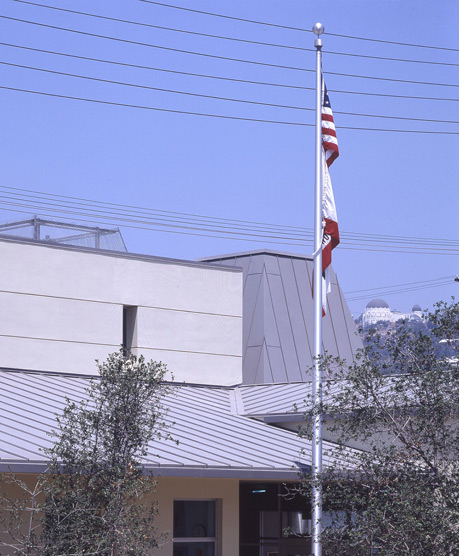 "With this library, Phelps meets conflicting demands without being literal and without averaging responses into bland compromise. The architect creates a unique assembly of familiar parts and functions that acknowledges the diversity of the community and the site. Exuberant and restrained, generous and disciplined, the building is a seasoned and literate work that knows its place and audience without forgetting the most civilized of its responsibilities – delight."


Giovannini, Joseph, Double Identity, Architecture. September 1999
Hillhurst and Franklin Avenues
Los Angeles, California
1999
The library shares a busy intersection with the big signs of two mini malls and a gas station. Nestled beneath mountainous Griffith Park the site drops along Hillhurst Avenue to give views of the cityscape to the south. Uphill sight lines take in park ridges and the domes of the 1930's Griffith Observatory.
Clients and landscapes: Librarian requirements were informed by contradictory preferences of two neighborhood support groups and the hybrid urban/suburban plan takes cues from the diverse community. Ideas converged around two images - one a strong street front presence to reinforce Hillhurst's pedestrian-friendly revival and the other a suburban public place approached by car. Entrances give equal importance to the tree-filled parking area and to the street corner where a glass-walled teen room invites users to see and be seen. Landscape elements flow through the entryway to unite the street with a garden court / outdoor theater.
"Books brought into light" (computers adjacent): The reading room is an axial series of discrete areas. Entered at one end, it gradually rises above the street as a sequence of bays framed by pyramidal ceilings with central skylights. Computer stations line one wall and a low volume housing stacks fronts directly on Hillhurst. Built-in shelving, benches, and recessed windows form a thick wall that separates the reading room from the bustle of the street.
Daylight: The reflective reading room ceilings enable small skylights to supply even illumination with low heat gain. Off the stacks, narrow windows angle views up over the street to the observatory. On the outside, spanish tile window enclosures enlarge their scale to the street.
Design Award
Design Excellence, City of Los Angeles Cultural Affairs Commission, 1997
Publications
Giovannini, Joseph, Double Identity, Architecture,
September 1999
Orrousoff, Nicolais, A Proud Chapter, Los Angeles
Times, March, 1999
Photography: Tom Bonner