Los Angeles Department of Water and PowerNorth Hollywood Pump Station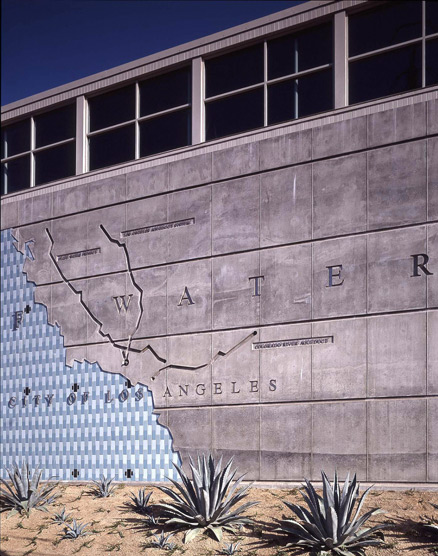 "Once water-pumping stations, which brought the miracle of life, used to be celebrations," recalls Phelps, as was the case with the small Spanish Revival station his new building would replace. "More recently, the only celebration you got was when you turned on the tap." Still, with the Cultural Affairs Commission's support, he was able to bring back the spirit of public amenity within the low budget that had once been allotted for unfriendly metal buildings out of catalogs.


Hoyt, Charles K., Focus on: Fitting Infrastructure, Architectural Record. June 1994
11805 Vanowen Street
North Hollywood, California
1992
Informing the Box: The North Hollywood Pump Station provides most of the water for central Los Angeles and fronts a major boulevard in the San Fernando Valley. For passing drivers, the massive concrete box that houses noisy pumps presents its blank front as a civic billboard - a car-scaled map that explains the building's function and furthers the DWP's "water awareness" program. Incised lines in the concrete the land mass inset - trace the route of aquaducts that convey water hundreds of miles to Los Angeles. The City appears on the map as a green light. Desert planting covers a dry berm below the map.
Civic Engineering: The tile curtain lifts above an arched window, its mullions fortified to stress the importance of the plant. For pedestrians, the window gives a view of the three largest pumps. An inscription in the paving of the small plaza explains the source of the water and the workings of the station.
Design Awards
AIA / California Council, 1993
AIA / Los Angeles, 1992
L.A. Cultural Affairs Commission, 1989
Publications
Fitting Infrastructure, Architectural Record, June
1994
Photography: Tom Bonner