Los Angeles Department of Water and Power Central District Headquarters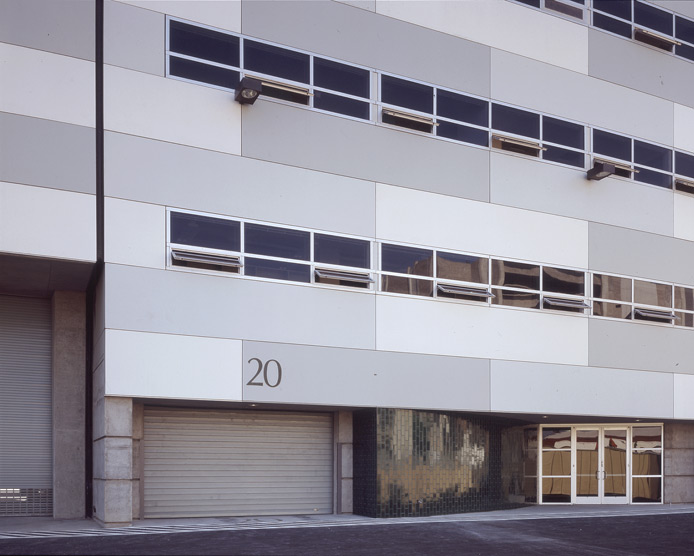 Alameda and Ducommun Streets
Los Angeles, California
1992
One of the largest city utility companies in America, the DWP operates a network of offices, workshops, and high-tech maintenance yards for a fleet of service and construction vehicles of every type. In the second phase of redevelopment of the 17-acre downtown yard, our engineer clients presented a site plan and firm schematic layouts for three different service structures with whose operation they were intimately familiar. Because of its prominent location near the government center, the freeway, and new commercial developments, the City of Los Angeles Cultural Affairs Commission asked us to explore the expression of civic importance in this big, tough industrial facility.
Service yard as "campus":
Aiming to establish a more human scale, our master plan likens the yard to a campus with identifiable exterior spaces, lunch areas, pedestrian routes and a variety of building features that act as markers. At the Fleet Service Building, the canopy of the fuel island swerves to direct the line of entering trucks. The truck wash at the Alameda street end of the building is a low shed, sized to the smaller service buildings around it. A thick, tilt-up concrete wall facing the sidewalk is sculpted by openings that let the steam out. Building elevations are scaled to correspond to spaces they border.
Patterned for freeway scale:
The buildings are loft structures with heavy, protected bases and lightweight upper enclosures that modulate natural light. The concrete block of Phase I buildings was abandoned for materials in keeping with the big scale and civic/industrial identity of the new structures. Ground level walls and columns are cast-in-place concrete with smooth surfaces and horizontal grooves that emphasize wall thickness. Upper stories are clad with 20 foot-long enameled steel panels configured in a running bond of three shades of gray/green. The panels result in a strong pattern, scaled to the adjacent freeway (it repeats every 130 feet). Like camouflage, the pattern alters building outlines and sense of building bulk. On hazy days the colors blend the buildings with the LA sky and on any day they look good with the Department's yellow trucks.
Hybrid construction / enclosure shaped by light:
At the 540 foot-long Fleet Service Building, the panels form a lightweight mantle that cantilevers from the concrete base to shelter repair bays. Windows on the south side are indented ten feet in shadow pockets that control east / west light and modulate the long elevation facing the "street" between Fleet Service and Maintenance / Construction. In contrast, windows on the north side are flush with the wall producing an unbroken pattern that reads strongly from the freeway. Roof monitors produce a glare-free, light-filled work space. At Maintenance / Construction, the patterned panel system is treated as an (incomplete) wrapper cladding two levels of truck parking above the shops.
Design Awards
Design Award, AIA / California Council,
1992
Design Excellence Award, Los Angeles
Cultural Affairs Commission, 1989
Publications
Architecture, October, 1992
Designers West, September, 1992
Photography: Tom Bonner