Fielding School of Public Health, UCLA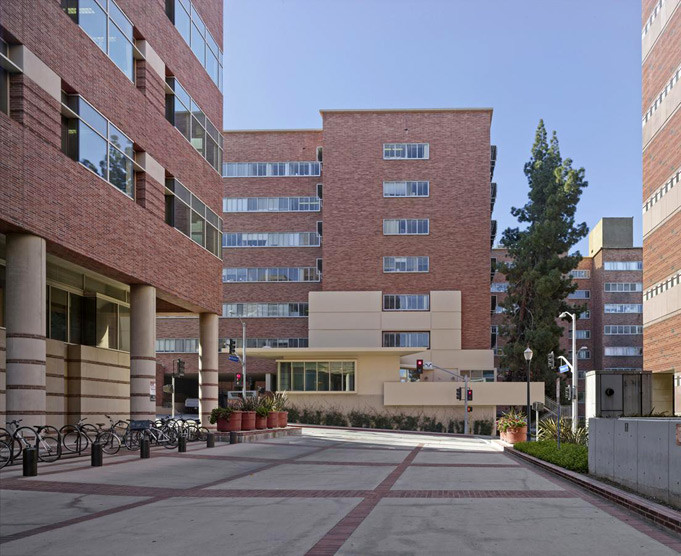 "We have had a wonderful experience with Barton Phelps, who worked closely and effectively with us and Capital Programs on a seismic upgrade and renovation. He has been very responsive to the school's needs and advocated well for us at every step of the process. I'm very happy with the results which, given the limitations on hand, transforms what we had."


Dr. Linda Rosenstock, Dean, 2011
Fielding School of Public Health
Seismic Renovation
University of California, Los Angeles
Changing the Subject
Initiated simply as an overdue seismic strengthening of one corner of a huge (two million s.f.) former hospital building, our approach to this project took the scope of improvements well beyond upgraded life safety levels. While also resolving chronic inadequacies in the function and campus identity of the distingished graduate school it houses, it achieved LEED Platinum and did all this on schedule and within the original budget. Relying on necessary repair of unavoidable collateral damage to the school's double-functioning main floor (school administrative suite and major campus portal) our design made sure that damage would occur in all the right places.
Load Path Informs the Plan
With structural engineers, we plotted a load path that efficiently conducts earthquake forces, via strengthened walls and floor slabs, from the roof and upper floors to a deep concrete pad underlying the new main floor. Two massive walls (shown in red the plan) are positioned to provide newly efficient entry, improved orientation, and a welcoming school lobby framed by much-needed meeting places - conference and seminar rooms. One wall follows the route of accessible entry. The other is a ray from a round seminar room formed from an exedral recess in the original gloomy breezeway. From here one sees daylight entering along a hallwaythrough glass doors  and clerestorey windows all the way to a terrace off the dean's corner suite.  On the exterior, every thing you see contibutes structurally to seismic response – even the cantlevered entry canopy and a tilted concrete panel positioned to lessen street noise on the terrace. Inside the ends of two-foot thick concrete walls project into the lobby, the wood panel between them to bear the names of  donors. panel. Expressing confidence in the building's new seismic capability, the panel is framed in glass.
Photography: Benny Chan, Fotoworks