Humanities Reading Room Restoration / Retrofit: UCLA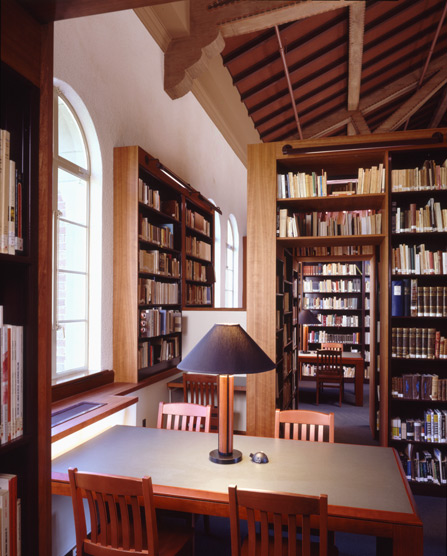 University of California, Los Angeles, 1998

A large truss-roofed space in Royce Hall - crammed with teaching assistant cubicles when we first saw it – has been redesigned to hold 50,000 volumes as the Humanities Reading Room. Our proposal to centralize individual language department libraries into this space allowed existing library rooms elsewhere in the building to be opened to different uses.
Designed as a comfortable collegiate study hall, reading room is an updated version of early 17th century libraries at Oxford - Corpus Christi College and the Arts End of the Bodleian Library were the models preferred by the faculty. Ten foot-high shelving, arranged to form small reading areas with adjacent carrels, allows seldom- used volumes to be kept in the collection. Doorways cut through book stacks to meet accessibility standards. Computer jacks at tables connect users of this limited access library with the current century.
Design Awards
AIA/Los Angeles, 2000
California Preservation Foundation, 1999
Los Angeles Business Council, 1999
Publications
International Architecture Yearbook, 2000
Architectural Record, November, 1998
Los Angeles Times, March 19, 1998
Architecture, December, 1995
Photography: Tom Bonner