House in Stone Canyon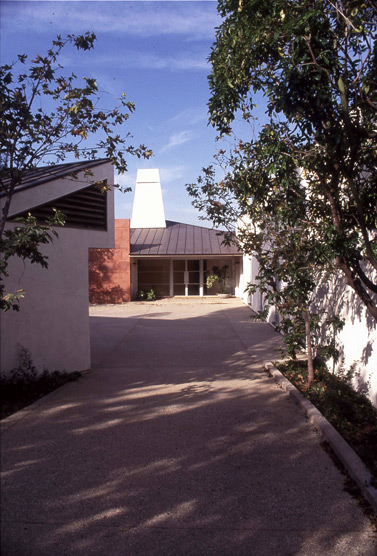 "As the suburbs mature, and our interest in the ranch houses wanes, the question becomes, what do we do with them all? Barton Phelps offers an exciting answer. The Los Angeles-based architect has transformed a dated, dark, inward-facing ranch house into a stunning home that now takes advantage of its fabulous site overlooking the countryside. Perhaps most important, Phelps' work also states emphatically that there is an alternative to building mansionettes in the suburbs... As a result of careful planning, Phelps has created not just a noteworthy, livable piece of architecture inside and out, he has set a standard for rethinking suburban design."


Nusbaum, Eliot, Home on the Ranch, Traditional Home. November, 1988
Kranz House
Bel Air, California
1992
Re - Engaging:
This 1950's compound was built as a hybrid of ranch house and villa moderne. Now largely rebuilt to serve the updated lifestyle of a second generation of the same family, it presents a suburban case study in the changing use of domestic space and changing attitudes toward privacy, public display, and landscape coherence.
Coping with building codes, the new house accepts the angular geometry of the existing foundation but uses it to support a new composition of loosely linked volumes. Plan and section respond to current owner requests for openness, deeper daylight penetration, and a more welcoming entrance. For a family with children, the house preserves the comfortable efficiency of the ranch model but reorients its central volume with the frontality of a garden pavilion and opens a former service wing to family use.
Daylight reshapes the roof. A clerestory gable facing the chimneypiece becomes a glowing core reflecting light from the formerly dark space. A triangular chimney anchors the resulting roof geometry and marks the functional heart of the house. The bedroom hallway catches morning light, transmitting small doses to bedrooms through high slit windows.
The new house engages surrounding terrain wherever it can. Removal of a 3-car carport shifts the entry court more deeply into the site and a new garage, backed into a bank along the street, creates a fully enclosed court. The new family room, a free-standing block of red sandstone, and the linear bedroom wing frame a distant canyon view through the steel and glass entry hall. The original moderne porch is retained, its terrazzo flooring restored and its curve is echoed in a retaining wall that brings the rear yard into scale with the house. A low hedge at the top of the wall "borrows" scenery from the other side of the canyon.
Design Awards
AIA/Sunset Western Home Award, 1993
Architectural Foundation of Los Angeles, 1993
Publications
Daniel Gregory, Ranch House Reborn, Sunset, October, 1993
Barton Phelps, FAIA , Best and Brightest American Architects:, Building Stone Magazine,1997
Eliot Nusbaum, Home on the Ranch, Traditional Home, November, 1998
Return to Eden, Metropolis DOM (Moskow), No. 7, 2004
Photography: Tom Bonner