House in Morgan Territory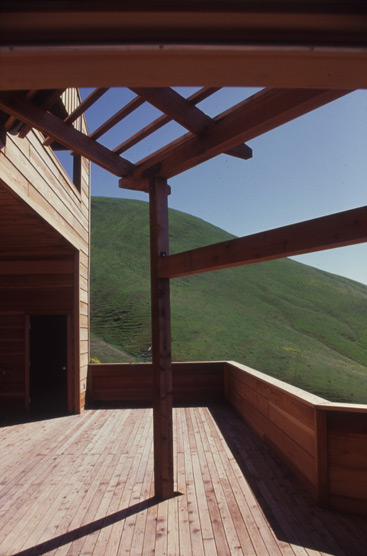 "Judgments as to how a building interacts with spaces, buildings, and infrastructure that make up the landscape around it are both artistic and political. We practice "deference"- allowing exterior spaces and events to shape buildings - and "assimilation" – treating enclosed and exterior space as alike and connected."


Key Terms, BPA Website
House in Morgan Territory
Contra Costa County, California
1991
Anchoring with a View: A solitary house set in windswept, treeless hills near the University of California's famous Livermore Laboratory southeast of San Francisco represents a long-awaited escape from suburbia for an empty nesting geophysicist and his rurally inclined wife. From the county road a mile below, its contour-tracing form flashes into sight in a series of timed landscape exposures. Lost from sight, it does not reappear until the winding ascent ends in a car court dominated by a framed view of stunningly minimalist terrain beyond. The semi-arid ranchland vista only comes in two annual colors: brown or green. The two-sided, right anglespatial anchorage of the court, works in an experiential way established convincingly in certain canal-bounded piazzas in Venice.
Beyond the naturally weathered redwood entry portal, the house reveals itself as a larger-than-expected series of volumes each sheltered from the wind by a different contour and each claiming a different view. Orientation aligns entering movement with a shift from shady to sunny and from windy to calm. Correspondingly the glassy main rooms and the stick-style composition of the pergola deck contrast with the protective solidity of the entry court.