House in Brentwood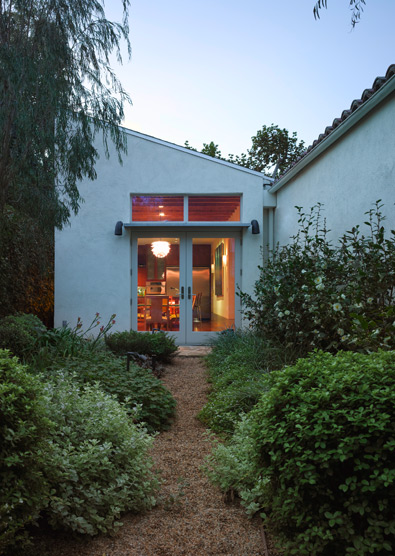 Scranton House
Los Angeles, California
2006
Camping Out in Brentwood:
The site is a complete surprise. An anomalous flag lot, invisible from the street, it's part of a subdivided parcel that a creek once ran through until rendered buildable by a culvert and infilling of the creekbed. The existing house was moved onto the newly regraded property in the 1960's. It's a handsomely scaled, single storey, 1930's Spanish Colonial Revival pavilion. Together, the house and site create a remarkable sense of isolation from the tightly packed, quintessentially suburban development that surrounds it. Our site plan proposed a phased build-out into a diminutive garden compound with a two-storey addition and a freestanding guest cottage.
The first phase of construction reinterpreted the plan of the house. It used the former kitchen and dining room to expand circulation space (including a future stairhall should the anticipated second storey be added), a media center, and a walk-in closet for the new master bedroom. The new plan slipped a kitchen / dining room / utility wing into a narrow rear yard and attaches a carport to the end of the house. Wedged in at an angle, the shed-roofed new volume read as a garden pavilion of its own. Long interior sightlines increase the sense of scale and accommodate large works of art. Windows attached directly to the studs of the dining room wall work with strategically located skylights in the hallway to increase spaciousness and merge interior space with the garden.
It's was all quite romantic. Some nights, a big filmscreen dropped from the living room ceiling to turn the place into a movie clubhouse. After the movie, when rafts of tented furniture are moored around a flaming rock on the rough flagstone terrace, the garden took on the qualities of a quiet oasis with resting nomadic travelers.
A considerably larger project for additions and renovation is currently underway. It involves the entire house.
Photography: Benny Chan, Fotoworks