House in Beverly Hills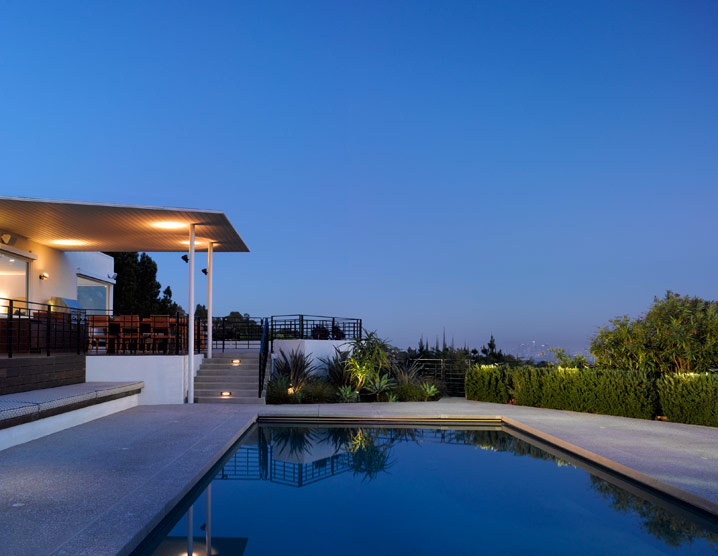 Kraus Residence
Beverly Hills, California
2007
Loosening Up Laszlo
The original single-storey house was designed in 1947 by the prolific (and famously intransigent) Hungarian-born interior designer-to-the-stars, Paul Laszlo. From its tight clifftop perch above Beverly Hills, it elegantly delivered spectacular panoramic views of the Los Angeles basin. His clients, Mr. and Mrs. Axel Zacho, may have asked for a "party house" -anyway, that's what's suggested by its combination of  tiny His and Her bedrooms with a grandly scaled living room and huge, symmetrically set fireplace. Axial steps formerly led out to an ultra - symetrical composition of poolside planted terraces that consumed almost the entire open area of the site.
Accommodating the very different needs and contemporary lifestyle of our clients' rapidly growing family, our renovation enlarges, loosens, and reorganizes much of the original composition but not without first confronting the cliffsided site's extreme dimensional limitations.
City building restrictions and neighbors' protected views ruled out conventional approaches to expansion out or up and the only direction left was down. Our design inserts a new bedroom wing into the solid bedrock of the cliff and uses it to support the house above. A new stairwell drops past the end of the TV room so that dramatic views of Downtown are maintained but now seen through even larger expanses of glass.
Structural and foundation requirements made cast-in-place concrete the most efficient material for walls, floors, and roof. Enclosure is completed on the open east side of the addition by full height sliding glass doors and fixed glass panels that open onto a cantilevered balcony  protected from above by a concrete overhang. The roof surface is a paved deck with built-in planters that expands the usable outdoor area of the site.
Given the site's many restrictions skylights became a theme. The new bathroom is lit from above through a tiled shaft. A narrow skylight backlights the remodeled kitchen. The former entry court is now an atrium that gives new solidity to the entrance off the street.
Removal of a large brick barbeque and chimney (for both structural and architectural reasons) initiated an overall relaxation of the stiff formalism of the original outdoor spaces and allowed us to design for improved usefulness in everyday family living. The swimming pool and its surrounding steps and terraces are reshaped to accentuate views and the spa has been moved to an out-of-the-way corner near the master bathroom. A thin roof canopy replaces the heavier original, shading the dining terrace and framing far off views.
Photography: Benny Chan, Fotoworks