House in Benedict Canyon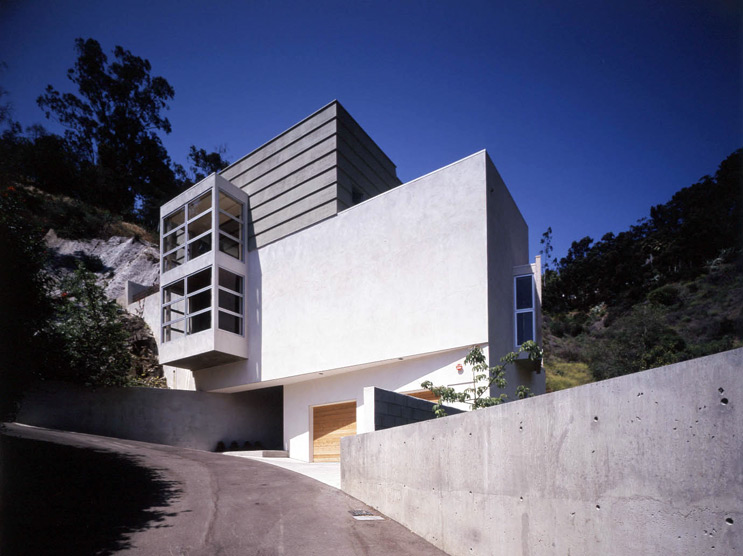 "One powerful idea that gets developed in North American architecture is the unified exterior envelope – a roof and walls that vary in an overlapping way almost like a garment or a blanket. This produces complicated houses with continuous roofs, with hips, valleys and sheds enclosing the whole structure with an apparent simplicity. Charles Moore was great at this. Another idea is sculptural fragmentation where the house is broken apart into components which are then combined, in the most formally energetic way one can imagine – something Frank Gehry did early on. For functional and artistic reasons, I like to split that difference right down the middle."


Phelps, Barton, FAIA, Architectural Inspiration: Styles, Details and Sources, Skinulis, Richard and Christopher, Peter (eds.), Ontario, Boston Mills Press, 2007
House in Benedict Canyon
Beverly Hills, California
1990
Stratifying: The plan and section trace their origins to the restrictive topography and geology on which the house is built. This passed-over site was difficult but worth it: a beautiful, secluded canyon overlooking the city. Grading requirements for a debris basin and soft alluvial soil forced the house back into the rock of the hillside and upward into three storeys. The blind uphill elevation that results is countered by an open plan with cantilevered floors and expansive fenestration on the downhill side. Striking views were reinforced - the nighttime lights of the city from the living room and master bedroom and a sweeping prospect of the canyon from the dining room, study, and studio. The intent is to strengthen architectural presence through heightened awareness of the distinctive character of an overlooked landscape.
Formally, the house finds a compositional middle route between sculptural fragmentation and the unified envelope of the traditional American house. This approach allows multiple images of house and the elevations are surprisingly different, each undertaking a different role in response to its part of the site. The two-story garage / studio wing stretches the front into a protective portal. A raised terrace, framed by an assemblage of jostling volumes, becomes center stage. Third floor bedrooms open under deep eaves like a single story ranch house down in the flats.
The composition is anchored by notation. Changes in materials structure spaces horizontally and mark vertical connections between the layers. The natural colors and textures of finish materials are emphasized by using big reveals and flush detailing to make walls, floors, and ceilings read as separate, discontinuous planes. Stained concrete steps rise through a glass-canopied shaft and turn to enter the main floor gallery that is both entry hall and dining room. A staircase boxed in ordinary strandboard sheathing, scissors up a glazed stairwell where you can sense the downward sweep of the hillside above the house. The light fixture over the dining table is a miniature representation of the volume you are in when you see it.
Publications
Locked in Rocks, Metropolis DOM, (Moscow), No. 8, 2004
World Cities Los Angeles (London) Academy Editions, 1994
Photography: Tom Bonner