House in Bel Air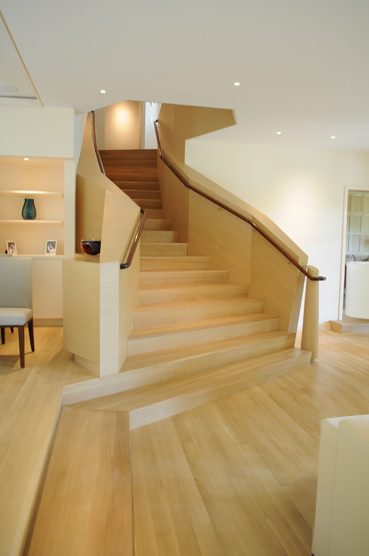 Dropping In on Paul Williams: House in Bel Air
Los Angeles, California
Set two full storeys below the street, the house was designed in the late 1940's by noted Hollywood architect Paul Revere Williams for movie score lyricist, Y. P. Harburg, himself best known for penning "Over the Rainbow" for the film, "The Wizard of Oz." A modest English country cottage with a sprinkling of Williams' signature Art Deco detailing, it was subsequently enlarged and altered unsympathetically by later owners. The house is entered on the upper floor from which one originally descended to separate living and dining rooms, a breakfast room, and kitchen at the garden level. When BPA was retained by new owners, a couple with two young boys, the 6000 square foot house presented a cramped upper floor connected perilously to the lower level by a steep, awkwardly winding staircase.
Our plan plays on the original separation of upper and lower floors and gives equal importance to both. The main event is the newly enlarged and reconfigured stairwell that now unites them spatially. An angular hallway that works as entry, light well, and library was plowed  through upper floor partitions to a newly added family room for evening gathering.  A ribbon of south facing windows looks out over the garden to the canyon beyond and outside stair leads to a roof deck with an ocean view. Skylights are remodeled to supply even ambient light with minimal heat gain. The existing rear stairway – a classic Paul Williams winder – is retained and given added importance by a new elliptical ceiling with an eccentrically located oculus.
Upper floor bedrooms, bathrooms, and study spaces are remodeled to improve daylighting and give each distinction. A glazed turret turns the bedroom corner to begin the new upper floor - the first part of the outside of the house to be seen on passing through driveway entry gates. In the master bedroom, an existing fireplace becomes the core of a flexed casework composition of cabinets, bookshelves, television enclosure, and passage to the bath beyond.
On the lower level, modifications accommodate the new staircase. The dining room was opened to the living room to create a large single space and the fireplace and bay window were simplified and visually strengthened to reckon with the presence of the new stairs. Light from an existing dormer on the roof now bounces down a three-story shaft above the stair. The new family room and bedroom turret cover an outdoor sitting room – a shady terrace for al fresco dining that mediates between house and garden.