High-Rise Condominium Hallway Study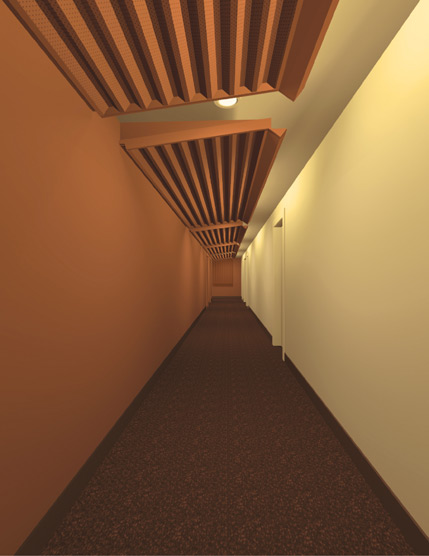 Corridor Improvements, Los Feliz Towers
Los Angeles, California
2009
Installing the Quick Fix:
In 1966, when the two 14-storey Los Feliz Towers rose anomalously on stately Los Feliz Boulevard where the L.A. street grid ends at the vast green space of Griffith Park - angry neighbors demanded zoning changes prohibiting future high-rise construction. Designed as rental apartments in modest flat plate concrete construction by architects, Daniel, Mann, Johnson, and Mendenhall, the buildings' balconies and floor to ceiling glass afford remarkable views across the park and city but do so at the expense of interior circulation spaces which are cramped, poorly lit, and noisy. Corridors display molded chair rails that halve wall surfaces and other telltale results of unfortunate remodeling efforts aimed at producing a "period" look. Successive layers of paint have voided the effectiveness of acoustical tile. A pattered carpet completes a palette of dark surfaces.
The overall effect is dim, stuffy, claustrophobic and unrelated to the modernist design of the buildings themselves. Our clients, who think of the towers as historic structures, asked us to provide a fresh, elegant, better functioning system of shared circulation spaces and to restore modern design integrity to the interior of the buildings.
The combined effects of severe budgetary limitations, tight dimensions, fire separations at side walls and the need for fast installation led us to design a pre-fabricated system of metal ceiling components. Corrugated sheets of perforated metal support thick sound-absorptive bats and new lighting. Two paint colors, applied asymmetrically, make one wall the primary light reflector they also increase the scale of the corridor. Inefficient incandescent ceiling fixtures between the panels are replaced with recessed LED downlights to light the floor and fluorescent strips are recessed in the leading edge of the new ceiling panels to reflect light off the lighter colored wall to maximize the design effect and lighting efficiency.