Herbert Morris Humanities Meeting Room, UCLA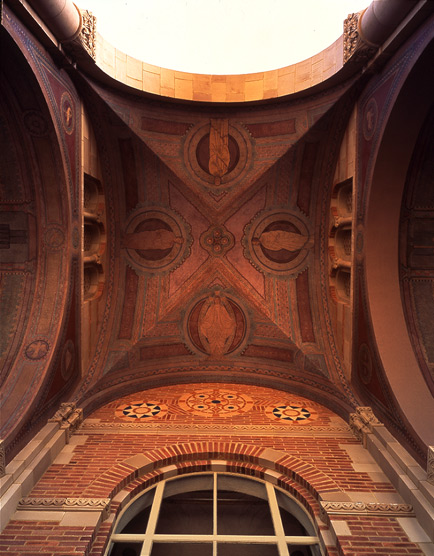 University of California, Los Angeles
1998

The most prominent windows of Royce Hall are located in the central loggia above the main entrance. They light a tall, elegant space that for years was sealed off in its former role as the German Department Library. Remodeled and reopened as the Herbert Morris Humanities Consortium (shown at right) it is heavily booked as a pre-eminent conference space on campus – the new living room of the university, we like to think. A new raised floor makes the historic loggia accessible for the first time (the new front porch). Above the loggia, restored ceiling paintings by the noted New York muralist Julian Ellsworth Garnsey trace the history of western thought.
Design Awards
AIA/Los Angeles, 2000
California Preservation Foundation, 1999
Los Angeles Business Council, 1999
Publications
International Architecture Yearbook, 2000
Architectural Record, November, 1998
Los Angeles Times, March 19, 1998
Architecture, December, 1995
Photography: Tom Bonner