Hatlen Theater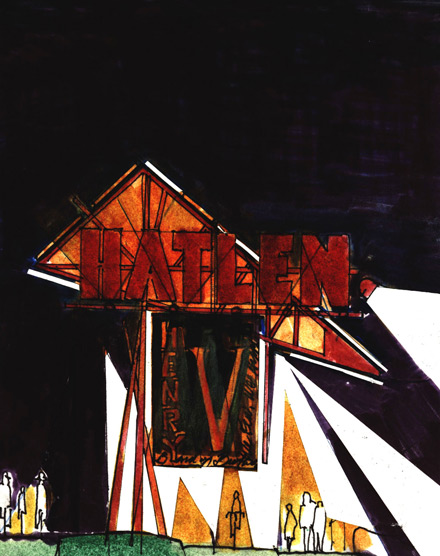 Hatlen Theater Renovation
University of California, Santa Barbara
2008

BPA was retained by UC Santa Barbara to assess conditions at its Hatlen theater, a 350-seat, mid -60's, auditorium designed by A. Quincy Jones – Frederick E. Emmons & Associates, that is seen as dysfunctional by faculty responsible for its programming for student productions and classes in the Department of Drama and Dance.
The problems of identity, orientation, function, and social use ascribed to the Hatlen Theater are typical of many campus buildings of its era at UCSB and elsewhere and the facility makes for a usefully applicable case study both in terms of internal function and its presence as a component of the campus landscape.
House and Stage
The arrangement of the house and the date of the building's completion suggest that Hatlen originally was always intended to function as a multi-purpose theater / lecture hall and to be used much as it is today. In its overall simplicity, spaciousness, and shallow fan layout, it presents the relaxed, public character typical of mainstream modernist, multi-purpose auditoria that was popular in mid-century America. As such it reflects influence of earlier European modern architects – especially the plan strategies of the architect, Alvar Aalto, but without the Finnish master's emphatic asymmetries, operable partitions, or spatial excitement.
Faculty find flaws in stage dimensions, lighting, acoustics, shops. Audiences complain about poor sightlines, lack of spatial character / dramatic excitement
Context
The building is located on the south side of a mall that forms the central east-west axis of the campus. The main axis of the theater runs east-west with the stage and fly gallery to the east. There is no indoor lobby and the vestibules open directly onto wide, sloping side aisles. The theater is linked to a new Dramatic Arts building on its west by a covered entry court that serves as lobby / reception area. It has an oblique view of the lagoon the terrace. The entry court presents an accommodating framework for improvement options.
Finding the place is difficult, especially at night, the potentially powerful lagoon view is blocked, and the entry court unusable and difficult to access.
Our initial design study treats the empty space of the cross-campus mall as a commercial highway strip with billboards directing day and night circulation. Entry court possibilities include scale transformation using large, suspended elements (sculpture, banners, lighting), to fill empty space / increase intimacy, installation lighting and stagecraft armatures for outdoor theater events; and windscreens, built-in seating, and lighting for evening social events; and opening the court to the lagoon – one of the most dramatic views this remarkable oceanside campus. Theater improvements include development of empty side walls with exposed technical equipment/l lighting, layering with sculptural / visually reflective screen materials and illumination for focus / excitement / spatial tension.