Garden House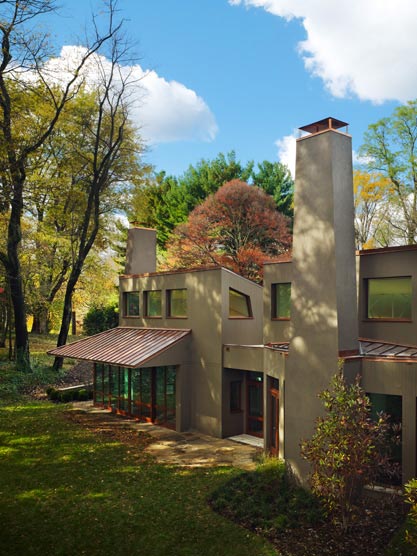 Primacy of experience: emphasizing perceptual differences between drawings and actual experience of buildings (or how simple designs produce complex results).

Engagement: playing expedient, circumstantial elements against orderly, "principled form" to engage users and make compositional concepts accessible.

Transforming with light: altering perception of spaces through daylighting technique.

Building as landscape: considering buildings not as singular sculptural forms but as components of dynamic collective landscapes - social and physical. "deference"- allowing exterior spaces/events to shape buildings; "assimilation"- treating enclosed and exterior open spaces as alike, interconnected, and of equal of artistic and political significance.


Key Terms, BPA Website
Garden House
Virginia
2010
Allowing for Perfection
Part ranch house, part Palladian villa, part dogtrot log cabin, ideas for this house emerged from a lengthy design process that continuedalmost all the way to Substantial Completion. Our clients have broad, bi-coastal and mid-western experience with house types and suburban landscapes. Discerning and ever willing to investigate alternatives at every step, their's was a quest for the perfect house.
Having raised two children in a single-storey, 1940's modernist house on part of the two-acre property, they were intimately familiar with the attributes of the site, many of which they wanted to maintain. Aware of its ability to accommodate different configurations of a larger, more complex house, they wished to explore them all.
Keenly interested in gardens and committed to preserving mature trees and particular prospects, our clients devoted almost as much time to exterior spaces as to interior ones and specific interrelationships between inside and out were determinants of the final layout. A strategic program of removal, interim maintenance, and replanting allowed favorite plant materials to be saved. Stringent root protection shaped foundations located as much as thirty feet away from trunks.
Winter Daylight: the  corner clerestory windows  of the 28 by 32-foot, shed-roofed modules admit light to major spaces throughout the day and year. Light from windows and skylights between the living and dining rooms fills a chamber above the suspended living room ceiling for even perimeter distribution. An east / west wall splits light between  living and dining rooms. A roof monitor admits light to a shaft in the upper floor. Above the first floor ceiling, light is directed to the  dressing area and bed chamber.
View: Selected views connect interior and exterior spaces. Discovery of new ones during construction (like that of the old silver maple on axis with the breakfast table) changed plans and sections. The central hall gives a view deep into the garden from front door. Sliding corner doors at the Family Room open it to a terrace and sloping garden beyond.
Scale Control: Major spaces are connected by two interior axes. Crossing these, one can sense open space alternating with closed, big space with small.
Transformation: the "shed roof shift" – low at front, tall at rear – enhances daylighting, calibrates building scale and spatial function. Duality is emphasized by transitions: the unified front of thick masonry walls (drystack local stone) and limited fenestration to a clusterof glassy, wood-sided garden pavilions and free-standing chimneys at back. Thick stone flooring gives outdoor character to the central hall that links the front and rear gardens.
Elevated Performance:
Controls: Lutron Homework: lighting;
retractable awnings/shades; optimal
daily/seasonal implementation.
Daylighting: strategic skylight/clerestorey
placement.
Doors/Windows: gasketed mahogany;
glass: 1" dual, exterior laminate visible
light-shading film, interior Low-E
coating.
HVAC: digitally-controlled, hydronic/forced
air heating/cooling, groundsource
wells: utility savings 7-year payback.
Insulation: Icynene, spray-applied foam;
moisture resistance/air-
flow/temperature control, acoustics.
Natural Ventilation: window placement,
attic fans.
Landscape: tree/plant/root protection
shaped foundations; on-site relocation
nursery; site run-off/roof drains to
"water gardens"; pervious paving.
Photography: Alan Karchmer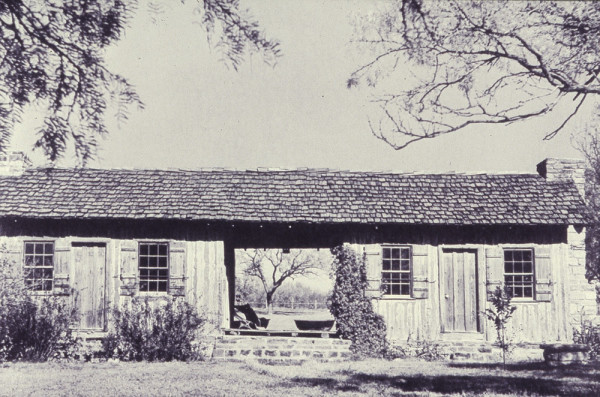 Dogtrot cabin, Texas