Games of The XXIIIrd Olympiad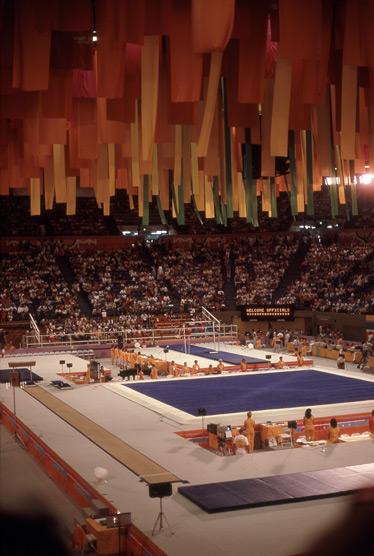 Los Angeles, California
1984
The Look: BPA provided planning and design coordination for all Olympics installations on the UCLA campus including the Gymnastics and Tennis venues and the Olympic Village. The overall effect we were after was to briefly transform the university campus into an exuberant ceremonial site in something like the manner of Delphi or Olympia in their heydays.
Temporary Landscapes: In order to orient and facilitate movement of athletes and spectators and provide for tight athlete security with minimal permanent change, our master plan temporarily moved trees, added gateways, colonnades, steps, walkways and banners and simplified the sequence of outdoor spaces in the center of the campus.
Hanging Out: The Olympic Village Main Street, hovering on scaffolding above the track stadium, provided athletes with food service, shopping, bank, and post office facilities. The centerpiece was a neoclassically-inspired discotheque enclosed by rows of free-form columns and an other-worldly frieze that we designed with artist, Peter Shire.
Tents, Banners, and Sonotubes: For spectators, the plan provided exterior and interior decorative programs, demountable structures for ticketing, food service, souvenir, and first aid facilities as well as landscaping, and signage.
Design Awards
American Institute of Architects: Institute Honor for
Collaborative Design, 1985
Los Angeles Olympic Organizing Committee:
Design Commendation, 1984
Publication
Architecture California, Games of the XXIIIrd
Olympiad, August, 1984
Photography: Annette del Zoppo