Master Plan and East Building, University Elementary School (now UCLA Lab School)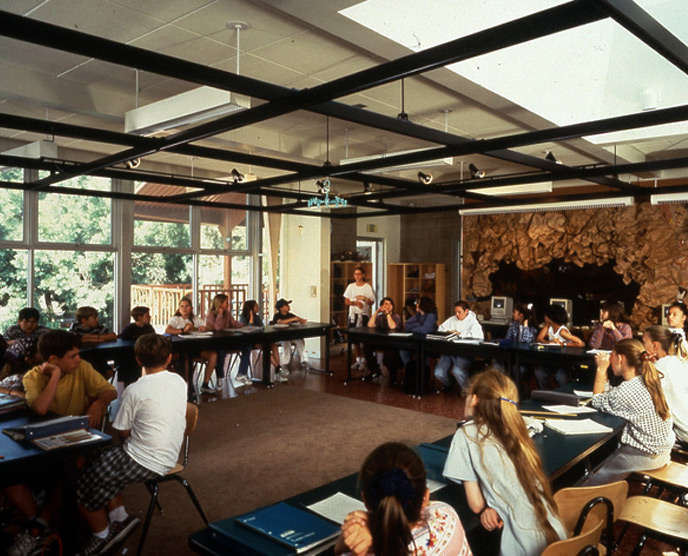 "Now I virtually spend my teaching days inside a large, living kaleidoscope...I treasure this gift from the architect who designed the building to capture every nuance of light. Many of the children I teach in these new classrooms have started the year saying, "This is going to be my best year yet!" They have each said in their own way, "I learn better in these classrooms." They say they do not know why, they just do. I know I teach better in these new classrooms. I do know why."


Ava de la Sota. Demonstration Teacher, Upper Elementary
"Windows of Wonder",
Seeds UES News.Vol. 40, Issue 2, 1993
University of California, Los Angeles
1993
The hundred and twenty-year history of Seeds U.E.S., the teaching laboratory of the UCLA School of Education, traces parallel breakthroughs in elementary education and school design. The ethnically and economically diverse student body is divided into two-year grade levels with paired classes taught by teams of teachers. After losing most of its former playgrounds and three architecturally significant classroom buildings by Neutra and Alexander to the new Graduate School of Management, the task of making the school and its campus whole again went beyond straightforward replacement. The site and design of the new East Building reflect re-evaluation of the school's teaching philosophy and its social re-organization on a much reduced but still beautiful park-like site.
Updating a Progressive Design for Teaching: The two-story East Building follows a curving bank and grows from a three-part classroom suite developed from teachers' critiques of the single-story buildings that it replaces. Limited to exactly the area lost, the concrete block and glass modules provide new spatial options for small groups as well as acoustical separations between competing activities. Small central rooms on which two classrooms hinge allow controlled flexibility, provide more intimate areas for music, storytelling, or computer use, and differ from classrooms in daylighting, finishes, and acoustics.
Plan and Daylight: The classroom suites are enlivened by daylight entering at roof monitors, patio courts, and glazed joints between the rooms, loosening overall building form without sacrificing the clarity of discretely defined spaces preferred by UES teachers. Uni-Strut hanging grids and baseboard raceways tied to a network of power/telecom conduits encourage rearrangement.
Townscape: The compacted site plan shapes a much-needed central outdoor space and turns the school outside-in, shifting its main entrance from a busy ring road to a new car court facing the University. The East Building looks both ways. Approached from above, it is a campus portal leading kids and visitors past the new classrooms down a big stair to the secluded heart of the school. Below, on its school side, patios, canopies, stairs, and ramps screen the strict geometry of classroom modules as they merge with older buildings to define an irregular, balcony-lined street. Linking new playgrounds on the north and south, the route gathers presence in a central court where the stair widens into a grandstand / speakers platform that is the focus of outdoor school events ranging from fundraisers to commencement.
Design Awards
AIA / California Council, 1996
AIA / National Concrete Masonry Inst.,
First Award for Design Excellence, 1996
AIA / Concrete Masonry Institute of
California, Grand Award, 1994
Association of School Business Officials
International, 1994
Publications
Giovannini, Joseph: Modular Learning,
Architecture, July, 1994.
Toy, Maggie, ed.: World Cities: Los
Angeles, 1994
Photography: Grant Mudford