Dimensional Fund Advisors, The Forum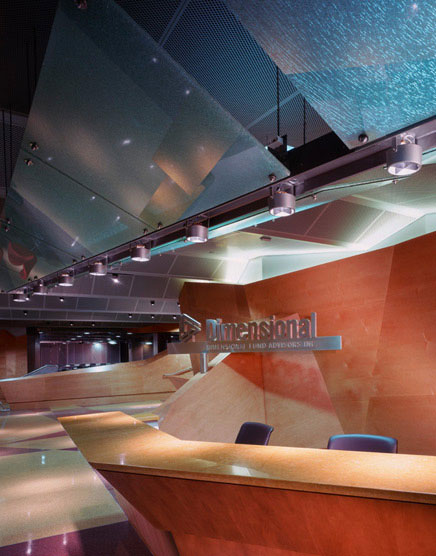 Etiology: developing a concept requires understanding sources and explaining to others where design ideas come from. We borrow the physician's term for the origin of a condition and work from real world observation. We may begin by looking for applicable ideas in locally recognizable vernacular (or "un-designed") models. Designs usually can be explained in terms of precedents and subsequent changes, improvements, or deformations.


Key Terms, BPA Website
1299 Ocean Avenue
Santa Monica, California
2005
The Forum is a 7,000 s. f. conference facility in the offices of an unorthodox and highly successful asset management firm. It's located on the ground floor of an 11-storey, 1970's office building overlooking Santa Monica Bay where the firm also occupies the four upper  floors. Designed for hosting training events for employees from the company's far-flung offices, we are told that its combination of socializing / exhibit space and interactive auditorium broadcast studio is unique in the financial industry. An unusual destination, neither academic nor businesslike in feeling, mostly private but partly public, its program components posed questions as to appropriate architectural expression.
Dionysian Reception: The reception space is festive and welcoming. Its plan and spatial feel derive from a memory shared by client and architect of an excitingly sculptural landscape - an ancient Egyptian stone quarry beautifully enclosed by walls of cleft granite with a huge, unfinished obelisk jutting from its rock floor. In our version, pear wood panels substitute for granite to loosely shape a sequence of spaces. A colored terrazzo floor pattern echoes their geometry. A continuous saw-tooth ceiling of perforated metal panels with integral registers, speakers, fire sprinklers, and light fixtures, marches overhead with rhythmic, high-tech independence. Groupings of Arne Jacobsen "Swan" chairs are illuminated by track lighting. Buffet counters can be rolled out of the way. (If placed end to end on the ramp they look like the obelisk). Reception and auditorium open out onto a lunch patio where remodeled concrete planters allow views over a busy street to palisades and ocean beyond. New glass windscreens with Ipe wood trim, lighting, heaters, new furniture complete the makeover of this formerly unused space.
Apollonian Instruction: exuberance in the party space is countered by functional calm in the 90-seat auditorium into which it looks through sound-proof glass partitions. Stepped desks and seating mix boardroom chic - mahogany trim and leather-covered Vitra chairs - with grad. school-like interaction among speakers and attendees. Speech acoustics, audio-visual systems, podium controls, and lighting get special attention as do HVAC and street noise abatement. With nearly total ambient quiet, the curved reflector panels in the ceiling allow normal conversational speech levels to be clearly heard 90 feet away. The plan absorbs the building's column grid and beams become part of a textural ceiling. Speakers, lights, registers, and acoustic reflectors resemble the flat, monochromatic sculpture of Louise Nevelson. Control booth and sound console support audio-visual presentation and remote participation broadcasts.
Design Awards
Los Angeles Business Council, Interior Architecture, 2006
Photography: Benny Chan, Fotoworks