Country House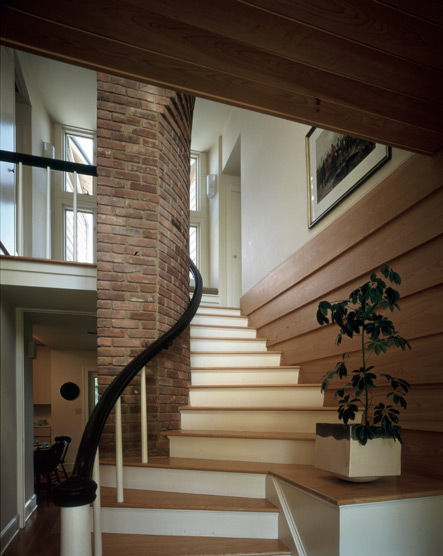 "The single family, free-standing house is still a much more common occurrence in the North American landscape than it is anywhere else. If you compare it to a farmer's field in Italy where guys have been plowing around the same rock for five-hundred years, you realize that any Nebraska farmer would have dynamited that rock the day they bought the property. The same mindset applies to houses here – they are largely original, completely a reflection of personality and the moment."


Phelps, Barton, FAIA, Architectural Inspiration: Styles, Details and Sources
Skinulis, Richard and Christopher, Peter, Ontario, Boston Mills Press, 2007
Thompson House
Cedar Bluff, Virginia
1982
"Country House":
Despite her wide travels our client stll felt a powerful attachment to the remote Appalachian valley that her family had helped settle four generations earlier. Leaving the big 19th century house in which she had raised four sons, she told us she wanted to retire to a "country house", a term that for her conjured up equally desirable if seemingly contradictory images of settlers' hewn-log homesteads and 19th Century hilltop mansions like Jefferson's Monticello. Encouraged by her willingness to veer from generic models used by local builders, we set out to explore local house building traditions that have been largely ignored as a basis for contemporary design in the region.
The program called for a ground floor master bedroom suite with easy access to the kitchen and breakfast room and a ramped walkway to the carport. Wary of heating costs, our client asked for an efficient living / dining area for entertaining and upstairs bedrooms for guests – all designed so that they could be closed off and left unheated when not in use.
The plan of the vernacular "dogtrot" cabin presents amazing potential for flexible use and sustainable design. Dogtrots usually came about when a second log cabin was connected to an earlier-built one with a gabled roof spanning an open passageway separating the two identical, rectangular blocks. In our version the typical dogtrot plan is altered dimensionally and hybridized historically and regionally with other models. The passage itself is closed in at both ends and the typical gable end chimneys are replaced by one central chimney core like that found in old New England houses. A stairway winds around the masonry core as climbs over the living room fireplace. On the south side of our dogtrot, a glass door-assembly and a big dormer window above it allow winter sun to warm the brick floor and chimney that act as a solar collectors. An overhanging "Creole" roof, a development typically found in the Deep South, shades ground floor windows. The living / dining room and the bedrooms above can be closed off from the central passage in winter. Meals are then taken in the breakfast room where a coal burning stove provides auxiliary heating and warms the chimney for nighttime heat dispersal.
Two very different elevations respond to our clients "country house" duality. On the front, wide cypress clapboards and standing-seam roofing achieve the big scale and texture of surviving log cabins. The high roof required by second floor bedrooms is scaled down by oversized casement windows set in a unifying triangle that helps recall the cabin model, even in this much larger house. On the rear, a deeply recessed window illuminates the stair hall and splits the house in two. Lateral projections of deck and garage linked by a columned porch, work with the gables and smaller-scaled siding to produce a bigger, more complex composition than the oversized cabin out front.
Publication
Young American Architects, Tokyo, 1983
Exhibition
Ten Years Out, Yale University, 1995