Landforms UES, Corinne A. Seeds, University Elementary School, UCLA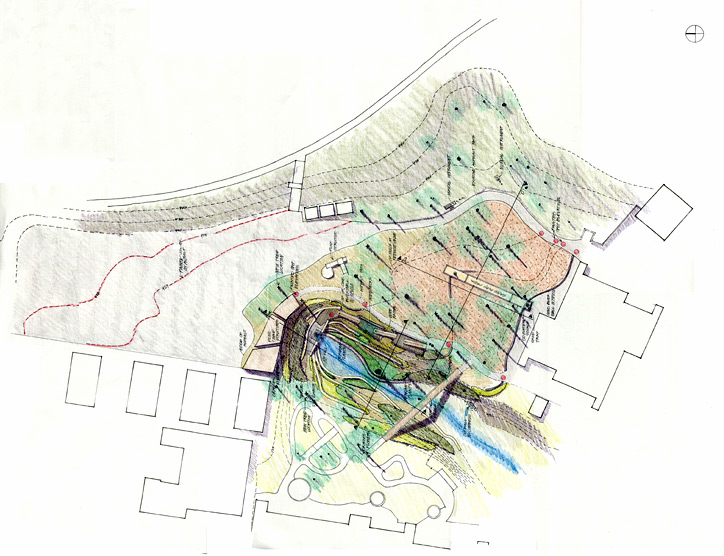 University of California, Los Angeles
The bank that separates the school hillside from the UCLA campus was formed by a prehistoric river. The creek that now follows its course flows year-round making for an unusual riparian plant regime in an otherwise semi-arid ecosystem. Bridged over and bounded by playgrounds, the creek marks the central axis of daily life at the school. It also holds lessons in history, natural science, topography, and land use and its potential for encouraging curiosity about the landscape is huge. Deterioration of the creek bed, neighboring redwood grove, and play areas called out for a renewal program.
Landforms UES aims to create an environment that answers conservation / restoration, engineering, and safety issues and, at the same time, heightens students' awareness of their physical surroundings and promotes educational interaction with the landscape. The site is developed as a readable topographic map across which one can move and it encourages kids  to read the map and explore it together.
The plan is divided into zones - Creek, Pavilion, Redwood Grove, and New Play Area. Marking the contours of the ground they each occupy, these components convey a lesson in cultural geography. A landscape, they tell us, is both an environment and an artifact – a synthetic composition of spaces functioning to serve the needs of a community.
The central focus of Landforms UES is the creek. In this reconfiguration the creek bed is reshaped to resemble an amphitheater. Terraces built with gabion baskets form permeable retaining walls that allow natural vegetation to take over. View lines are opened across the creek, into the redwood grove and play area. Plant materials are selected to demonstrate regional riparian ecology. Ramps provide accessibility. A cantilevered balcony overlooks the grotto at the source of the creek.
Landscape Architect: Andrew Spurlock, FASLA, Spurlock / Poirier