Competition for Hermann Park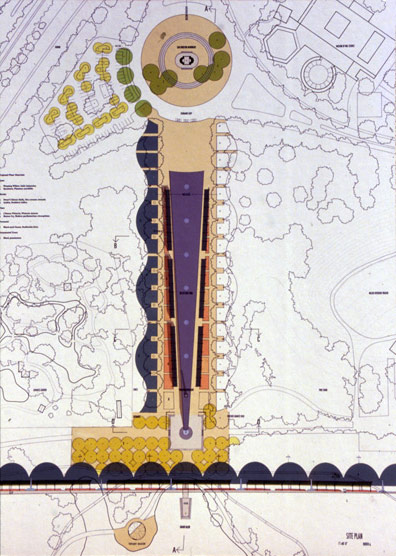 Competition for Hermann Park
Houston, Texas
In redesigning the core of Houston's crumbling central park, questions of feasibility and detail need to be preceded by more general inquiry into how the Olmstedian take on the 19th century English garden (here in a late and incomplete version) can be made relevant to a quintessentially American city in the late 20th century. Low density development patterns, societal privatization, commodification of recreational space and time, and diverse cultural expressions combine to undercut both practical and theoretical foundations of the park's original design. In responding to this question, our scheme takes focus on two aspects of the park's capability most in need of enhancement:
• Attracting Users
• Providing for Structured Use of Space
The remodeled reflecting pool defines the park as a distinctive, carefully composed and permanently constructed urban experience available nowhere else. Now lengthened from 490 to 750 feet to align with the existing allee of oaks, it is tapered to optically reinforce its recession and increase its apparent length when seen from the Hermann Loop road. Contained in a cleanly-edged concrete basin, the smoothly overflowing water surface is held one foot above natural grade. Flanking paths ramp down to five feet below the water level. When seen from the walkway, the Pioneer obelisk appears to float over the pool.
The oak allee is remodeled to structure and shade an on-grade walkway that gives views of the pool through a pergola (public space) and also a series of 24 picnic alcoves (semi-private space).
The 80-foot tall topiary beacon draws attention to the heart of the park. The lightly structured steel trellis is clad Boston ivy (green in the summer, red in the fall) and topped with flood lights that illuminate the basin.
Trees: new willows paint decoposed grainite paving with shadows and contrast in color with the dark green oaks beyond. New sycamores are deciduous and change color with the seasons.
Shrubs, flowers, grasses: Chinese Holly, azaleas, Wisteria, Black-eyed Susana and Pennisetum are selected for texture and color in specific relationships.