Cabrillo Marine Aquarium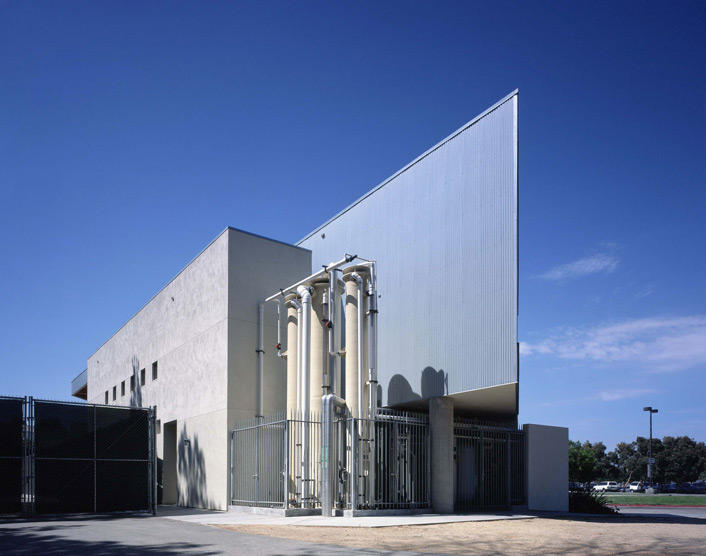 Master Plan Implementation, Phase I
City of L.A., Department of Recreation & Parks
Stephen M. White Drive
San Pedro, California
2004
This architecturally famous City aquarium functions as a teaching facility for early and continuing education in the marine environment of southern California and as a research laboratory. Since 1981 it has come to serve 400,000 school-age visitors a year and its outreach programs serve hundreds of schools. The tightly bounded site, leased from the Harbor Department, overlooks a beach park and wildlife refuge it adjoins salt marshes, tide pools, and one of the busiest harbors in the world.
A Unique Institution with Problems of Success:
The original one-story, 23,000 square foot facility was the influential mid-career work of Frank Gehry. It clustered indoor and outdoor exhibit spaces, an auditorium, offices, and wet labs around a central open space wrapped in chain-link fencing. The look is fishing village industrial with occasional naval riffs. Free-standing tanks served by exposed plumbing openly display mechanical functions. Our critical guides were the veteran curators who work these spaces, designing and maintaining their own exhibits on diversity, ecology, adaptation, and behavior of endemic marine life forms.
The Gehry buildings had aged gracefully but expanded programs and intense visitor use had rendered exhibit and work spaces inadequate. Infrastructure and life support systems were patched together and barely functional. A realignment of the entry drive forced visitors to approach the complex from the rear, obscuring the entrance in a confusing sequence that began at the loading dock.
Respectful Difference /
Re-Definition and Improvement:
Phase I grew from our master plan for phased expansion. Programming workshops ranked options and impacts resulting in a two-story, three-part scheme that houses new facilities, clarifies entry, and restructures group movement. The budget kept our design for the 21,000 -square foot Phase I as simple as we could make it. Compressed by lease lines and fire roads, the plan respects the earlier design but departs from it in significant ways. It frames the original core but finds inside it a new sequence of three courtyards – one landscaped, one enclosed by chain-link fabric, and a new larger one that slopes to accommodate both out door exhibits and special events. It increases density, shifting from one story to two. The boxy roof monitors that light library and workspaces on upper floor and materials – metal siding and stucco – play off the original design, but a new device - faceted screen of rust-proof fiberglass tubes - leads the driver's eye to the original chain-link entry kiosk now visually reinforced by the side walls of a new accessibility ramp.
Ground floor wet labs with flexible overhead servicing extend programming into the new courtyard. An upper floor terrace leads past a clerestoried administration suite to the new Moore Marine Biology Library that cantilevers protectively over the life-support system - the heart of the project - and opens it to view. Views out from the upper level visually connect the aquarium, for the first time, to the ocean beyond. Interiors continue the post and beam / wood-decking / exposed conduit texture of the existing structure. Phase II calls for an L-shaped outreach building that will complete the rectangle and back-up the existing entry with a tall banner wall. The garden court that it encloses provides an assembly / resting space under a canopy of shade trees.
Design Award
Design Excellence,
City of Los Angeles,
Cultural Affairs Commission, 2001
Photography: Benny Chan, Fotoworks