Arroyo House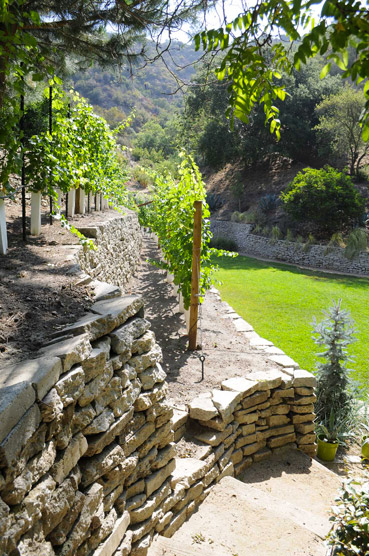 "It is an unbelievable feat of imagination to fit a building on this extremely complicated topographic site. The house as a result creates the image of a village of individual parts beautifully strung together by a long staircase." Robert A. M. Stern, FAIA, AIA / LA Design Awards Jury, 1985
Naturalizing: Arroyo House and Garden
Beverly Glen Canyon, Los Angeles, California
1985 - 2010
Framed by dry, chaparral-covered slopes, underlain by "young" geology, annually reshaped by winter rains, the canyon site of Arroyo House was sufficiently daunting to engineers at the Department of Building and Safety that they officially stamped the property "UNBUILDABLE". Enamored of L.A.'s mountainous urban fringe, UCLA architecture professor, Barton Phelps and his wife, attorney Karen Simonson, both East Coast refugees, persisted in showing how a dwelling could bridge a watercourse to merge with nature and in 1985 they moved in.
Spun from a traveler's dream of two free-standing pavilions split by a brook (think Vignola's Villa Lante), the house was actually shaped by hard facts that joined the two casini and raised one higher than the other. The plan does away with the all-American front yard. Entry is directly from the carport / drive-in foyer from which an oversized stair begins a curving ascent. Conceived as a transformational sequence for shedding city temperament, the stairway links a series of discrete spaces with distinct relationships to the outside and arrives at a garden court that opens into nature. Thick walls, deep shadows, indoor / outdoor ambiguity, and natural cooling derive abstractly from climatically appropriate Andalusian-inspired stylings of the 1920's (then already green by present standards).
As carefully as they began it, the owners insist that Arroyo House has been their teacher all along. Remodeled more times than they care to remember, it has steadily pointed the way toward an Edenic ideal. Now functioning as a portal to expanded holdings and a sequence of distinct gardens and a working vineyard, entering paths pass the streambed through a redwood grove then ramp to a grass parterre walled by vineyard terraces. As they step toward the ridge, three giardini segretti frame  secret views down and across the arroyo but, beyond the tended landscape, a network of trails winds over terrain that's never been cleared except by wildfire.
Book (Click to View):
A Place in the Canyons, by Barton Phelps, FAIA, 2013.