Academic Advancement Program, UCLA, First Scheme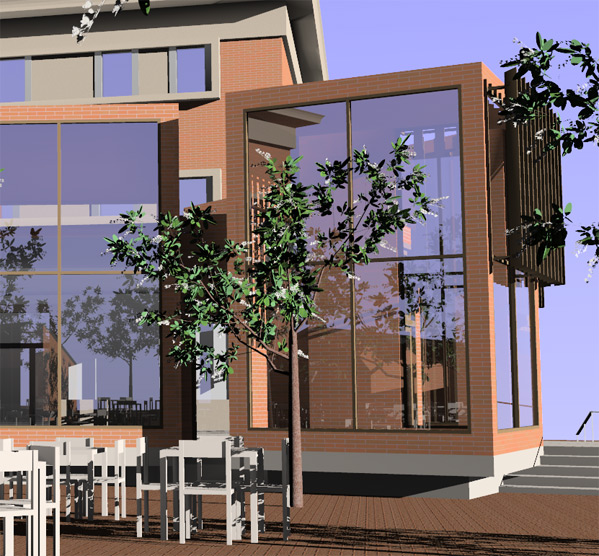 Academic Advancement Program Facility
University of California, Los Angeles
2008
UCLA commissioned BPA to design an addition to Campbell Hall to accommodate its tutorial program for undergraduates encountering difficulty with coursework. Administrators saw this project as a chance to give new campus presence to an essential but often-overlooked or stigmatized campus program.
Our plan unites and renovates ground floor spaces currently used by AAP and links them to a single story addition that spreads into a shady terrace situated between Campbell Hall and the North Campus food service facility. Bordered by vending machines and ATTMs, the terrace is a popular hangout heavily used at mealtimes and  very much a place to see and be seen.
The new interior space can be quickly rearranged to handle large group events and lectures as well as the normal array of small study groups.  Glazed alcoves, each with a seminar table emerge from the flat-roofed addition. Their discreet geometry gives a modicum of privacy and differing orientation lends specificity to each meeting place. Graphics, finishes, or coloration will identify each space from a distance making it easy for students and tutors to move drectly toward their group.
The big glass and steel boxes, scattered to look as if they have just trundled out of the building, enliven the scene on the terrace. Their uniqueness and transparency are intended to offset the sensations of isolation and stigma that struggling students often feel.