Corridor: The High Speed Roadway as Armature for New Urban Form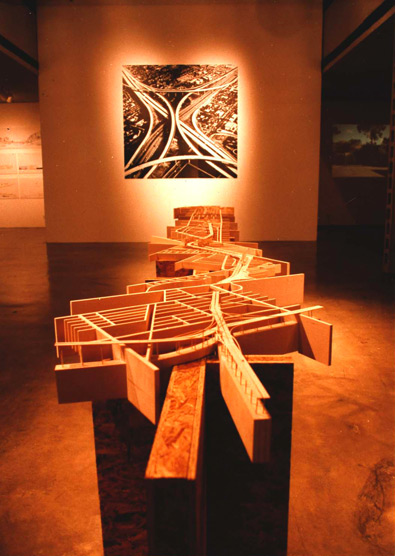 "In "Corridor", architect Barton Phelps proposed a series of new building types to mediate the awkward meeting points of freeways and streets. Taking as their subject a 9.4-mile stretch of the Santa Monica Freeway, Phelps and his team proposed a set of five building types to mediate the changes of scale between the freeway and the city."


Newman, Morris, LA Exhibitions Consider Housing, Freeways, Progressive Architecture. September 1991
Urban Design Research and Exhibition
Los Angeles Municipal Art Gallery
1991
The result of a four-year design research studio at the UCLA Graduate School of Architecture and Urban Planning, this exhibition takes the superimposed, high-speed roadway as a definitive feature of the "horizontal", car-oriented city and tests its potential to act as a formalizing armature for urban design. Recurrent, "unresolved" conditions associated with the roadway suggest new building types that reconnect the roadway with the city. A ten mile stretch of the Santa Monica Freeway, opened in 1961 and said to be the most heavily traveled road in the world, serves as the analytical base.
Roadway as artifact: Composed of nearly one hundred photographs, maps, drawings, slide projections and a twenty two foot-long model, the exhibit presents a series of reconsiderations of this everyday experience as an important and underutilized cultural artifact. "Superimposition: Building the Roadway", is a photographic documentation of the transformation of the pre-freeway city. In "Duality Unresolved: Conditions and Possibilities", slides of conditions on and off the roadway illustrate a range of evaluative concepts - "The Ride", Hyperproximity", "Disruption", "Vacant Room(s)", "Vestigial Armatures", and "The Ride".
Ways of looking at a freeway: In "Ways of Looking at a Freeway", differing graphic interpretations of the roadway introduce design issues related to topography, built form, and social /cultural factors.
Lateral Incidents: Five sites, selected for their potential to "inform the ride" and provide an hospitable "middle layer" become Lateral Incidents" - design interventions for housing, work places, and commercial, transportation, and park uses that respond specifically to the unusual characteristics of their undervalued sites.
Awards
Research Grant, Graham Foundation for Advanced
Studies in the Fine Arts, 1990
Design Advancement Grant, National Endowment
for the Arts, 1990
Publications
Architecture California, Corridor, November, 1992
Progressive Architecture, Corridor, September,
1991